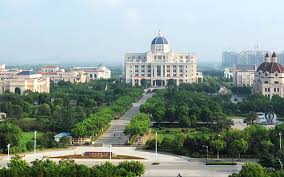 To the Secretariats of the Departments:
Philology
English Philology
French Philology
German Philology
Italian Philology
Computer Science
Law
Economics
Political Science
Primary Education Pedagogy
Journalism and Mass Media
Notification:
AUTh- mail- news
AUTh facebook
Under the Scientific Cooperation Agreement between Aristotle University of Thessaloniki and Shanghai International Studies University (SISU) and within the framework of the Belt and Road Countries Program, the Municipality of Shanghai offers one (1) scholarship to an outstanding undergraduate or postgraduate student of Aristotle University of Thessaloniki for online participation in the Chinese Language & Culture Summer School at SISU from July 12th to August 6th, 2021 (4 weeks).
We are forwarding the email below, along with the relevant informational material attached.
The scholarship covers: the cost of participation in the online Summer School program.
Interested students are kindly requested to complete the attached application form and submit it electronically along with the required documents mentioned therein until Friday, June 4, 2021, at 12:00 noon, to the Department of International Relations (e-mail: internat-rel@auth.gr).
In case of multiple candidates, the Department of International Relations will select the most outstanding candidate and will inform the Shanghai International Studies University (SISU) accordingly, which will make the final selection.
Please inform your interested students and post the announcement along with its attachments on your department's website.
Sincerely,
Eleni Baxevanidou
Supervisor of the Department of International Relations, Aristotle University of Thessaloniki
University Campus, GR 541 24, Thessaloniki
Phone: +30 2310 996742
Email: internat-rel@auth.gr